Customer's comment
Section Chief Qin of Guangxi Nanning Broadcasting and Television Monitoring Center:
Our cooperation project with vClusters this time has set up monitoring platforms in one center and 13 prefecture-level cities across the whole province with the hyper-converged solution, with a total storage capacity up to 6 PB. vClusters' hyper-converged products have not only high performance, security and reliability but also easy management and good after-sales services. They have provided a strong guarantee for our center's work.
Background
The broadcasting and television department of a certain province attaches great importance to the construction of IT platforms and wants to build highly intelligent platforms to store and manage the content and data collected from broadcasting and television. As required, such platforms shall be capable of supervising multiple program sources and user terminals of the whole network all the time to ensure the security of the region's network information and culture.
Pain spots of users
Management is becoming more and more complex due to a large number of servers;
SAN/NAS is unable to support the performance requirements of the new businesses storage due to the poor scalability;
The traditional architecture cannot realize linear expansion as the new businesses become increasingly internet-based.
The application system lacks high-availability protection;
The data center has limited space resources.
vClusters' solution
vClusters has applied the vCloud hyper-converged cloud-integrated machine in the building of the project, which mainly runs the broadcasting and television monitoring platform system and carries out unified management for the prefecture-level monitoring equipment.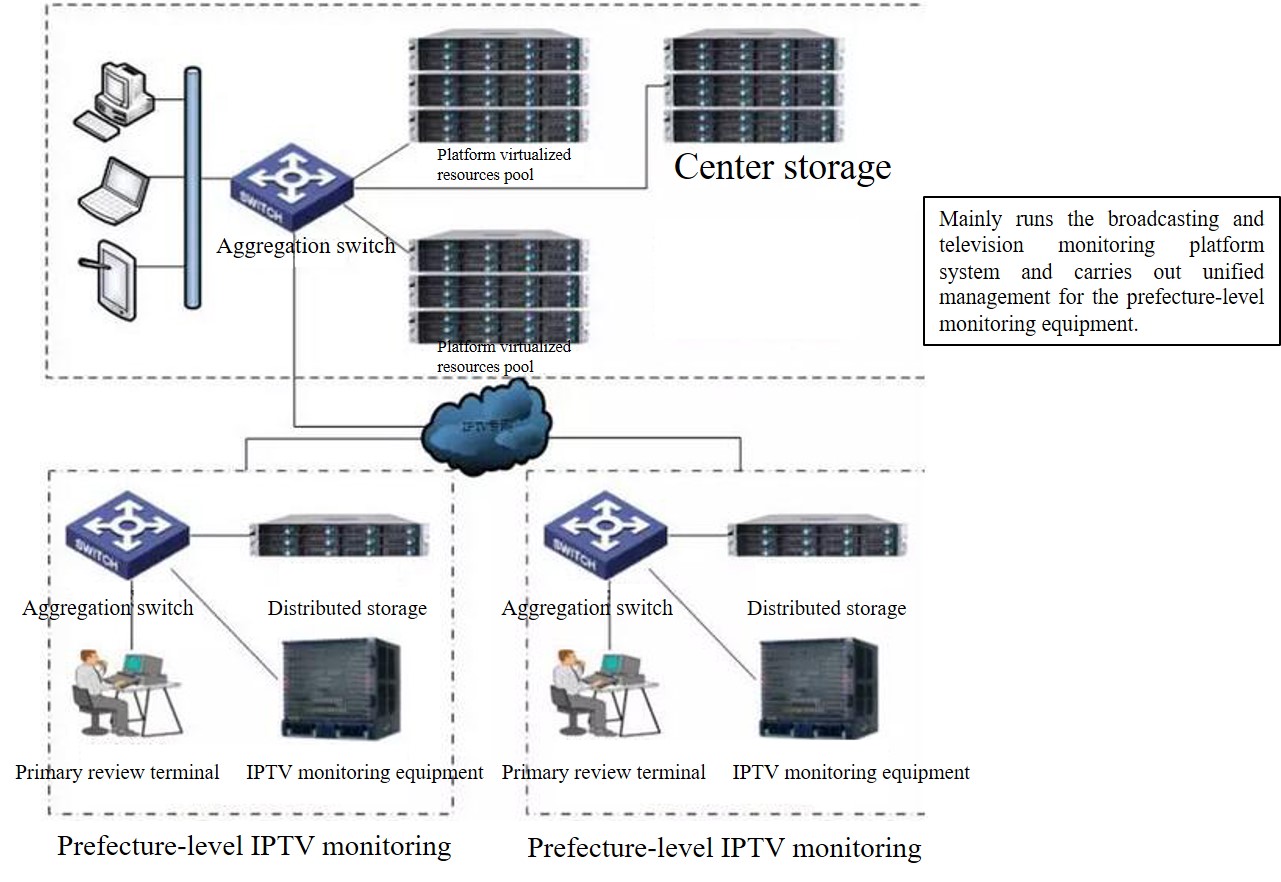 Value of the solution
Automated operation and maintenance management: VCloud can provide hardware management, storage pool management, and virtualization platform management as well as virtual machine data management, application management and other functions based on a unified resource pool. Users no longer need to switch between different interfaces when dealing with different management tasks. As all tasks are completed in the same interface, the management complexity can be greatly reduced.
On-demand expansion: supports on-demand addition of node computers and system automatic identification as well as linear growth of computing and storage performance.
High reliability: distributed technology with no single point of failure; supports multiple copies and intelligent reconstruction of data.
High-performance: vCloud intelligent storage system supports storage tiering and separation of hot and cold data with the hot pool using SSD high-speed medium to improve the storage IOPS and the cold pool adopts SATA hard disk. It also supports online-expansion in order to provide sufficient storage space for the monitoring platform.