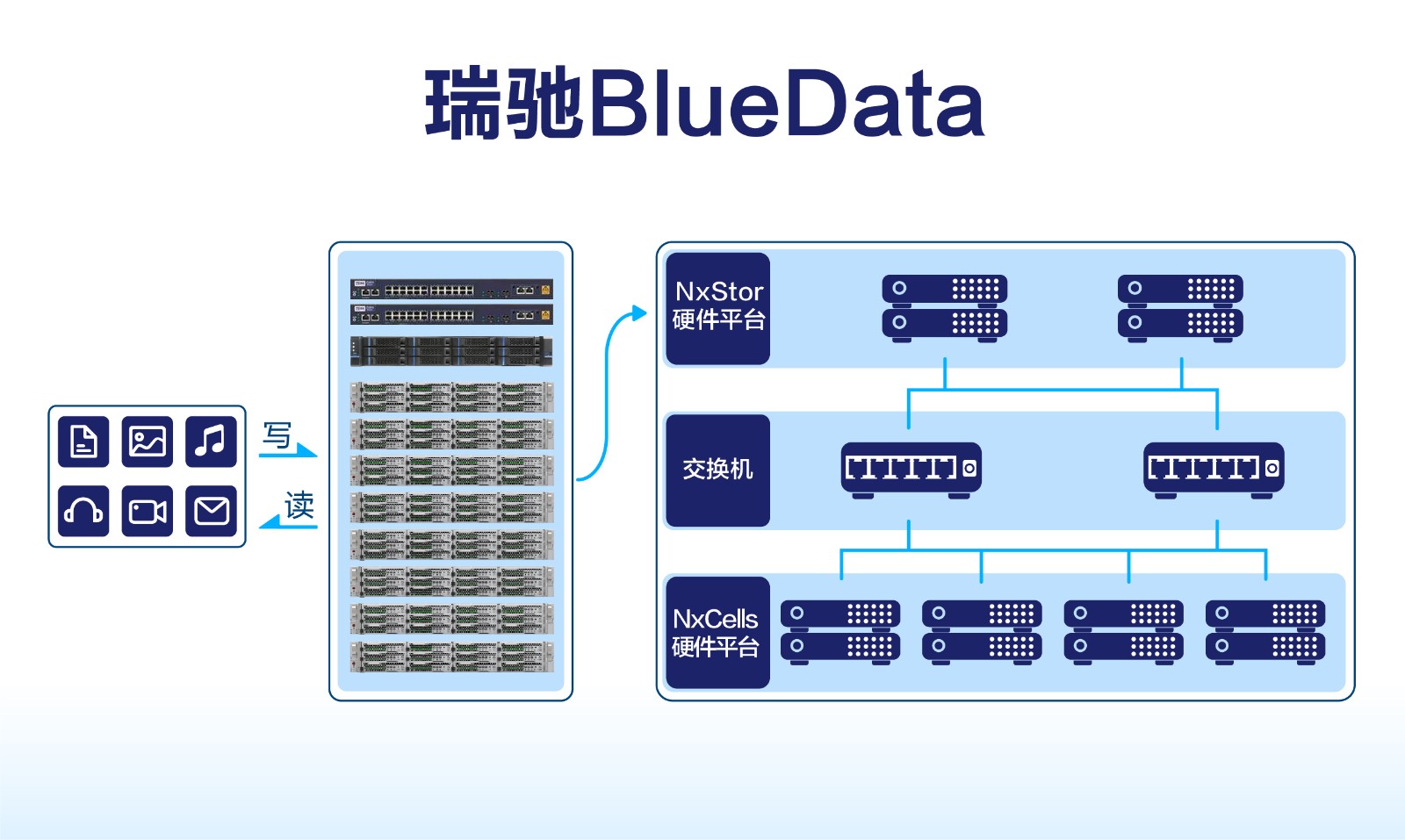 BlueData Massive Cold Data Storage System
Traffic-based energy consumption opens a new era of massive data
BlueData Massive Cold Data Storage System is a large-capacity and low-power consumption solution for massive data archiving applications. It adopts a high-performance ARM-based storage platform NxStor at the front end to provide efficient processing and quick response capabilities and a high-density micro cluster-based platform NxCells at the rear end to make available a mass storage space. Based on the full-ARM architecture, the whole cluster-based storage system can save power consumption by more than a half and realize a number of features, including traffic-based energy consumption, automatic archiving, flexible retrieval, and capacity linear scaling. Therefore, it can be widely used in the archiving scenarios of finance, medical imaging, video surveillance and so on.
Product advantages

Automatic Archiving •Intelligent Data Storage
Distributed storage architecture to provide unified storage space; automatic cold data archiving, automatic analysis of data features, precise localization of low-frequency data, online storage, and disk wake-up in milliseconds; high-reliability, easy deployment, and an overall performance far higher than CD tower

Traffic-Based Energy Consumption •Ultra-low Power Consumption
A full ARM-based hardware architecture that can reduce the power consumption by 50% compared to an ordinary one; disk auto sleep with no power consumption and disk wake-up in milliseconds for data retrieval to realize traffic-based energy consumption; an overall power consumption that is nearly 80% lower than that of a conventional storage solution.

High-Density Architecture •Ultra-Large Capacity
A high-density architecture for NxCells provides a 2U 24-bay storage space and a density that is two times that of a generic one; the main cabinet supports 10 Nxcells and a space up to 2PB, and the extension cabinet supports 14 Nxcells and a space up to 3PB, so a single cabinet can support the data archiving of all businesses