Jiangxi Xueliang Video Cloud
Customer's comment
President Yan of Jiangxi Mingcan Information Technology Co., Ltd.:
vClusters has made available a cost-effective innovative video cloud storage solution for the Xueliang video cloud project of Yichun. With the help of a massive data storage system, vClusters's solution can reduce the overall power consumption by 60%, saves the IDC room space by 50%, and greatly reduces the operating costs.
Customer demands
In response to the policy requirements of building the Xueliang Project comprehensively, Jiangxi Yichun has deployed a complete set of video surveillance system in the whole city. The front-end 8-megapixel and 4-megapixel cameras are both equipped with face recognition function, but the 200-megapixel cameras still need to be transformed. The specific requirements are as follows:
The first phase of the project has deployed a large number of high-definition cameras which are of multiple pixels and multiple brands;
2-megapixel cameras need to be modified to realize the face recognition function;
A total of about 5000 channels of cameras need to be transformed
The solution shall support multiple brands of cameras.
Solution
This project is to transform the video cloud service platform in Yichun, Jiangxi. For this purpose, vClusters has deployed a whole set of video cloud storage platform solutions to transform ordinary cameras into intelligent face-recognition cameras. The project adopts Nxedge edge servers and NXSDS distributed storage with a construction scale of 1PB capacity. It supports the transformation and access of the 5000-channel surveillance video businesses, and the capacity can further be expanded according to the demands of front-end businesses subsequently.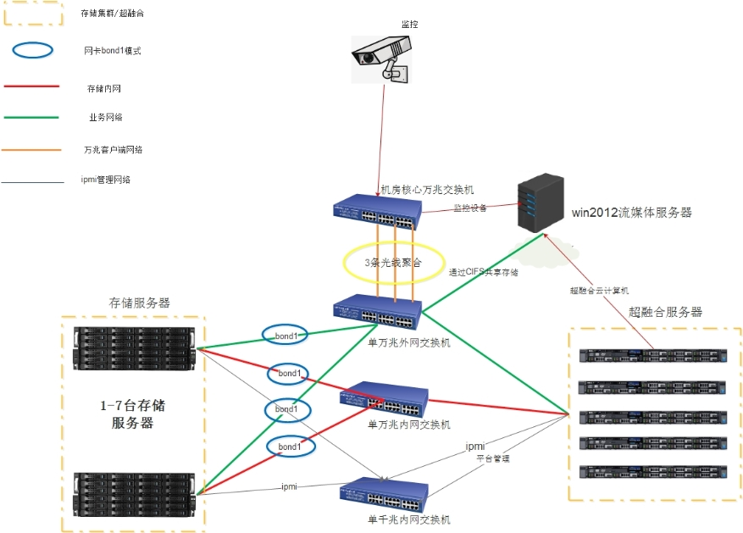 Advantages of the solution
Intelligent transformation: cameras without face recognition are transformed into intelligent cameras.
High compatibility: supports the cameras of all brands at the front end and the standard streaming transfer protocols, such as GB28181 and ONVIF.
Strong scalability: the video cloud not only supports smooth on-line expansion, but also can improve the storage throughput while increasing the capacity, thereby fully meeting the capacity and performance requirements brought by the HD cameras.
High reliability: the vClusters' platform supports remote intelligent archiving of data, and its distributed cluster storage is provided with a two-copy or erasure redundancy mechanism to ensure the reliability of data.