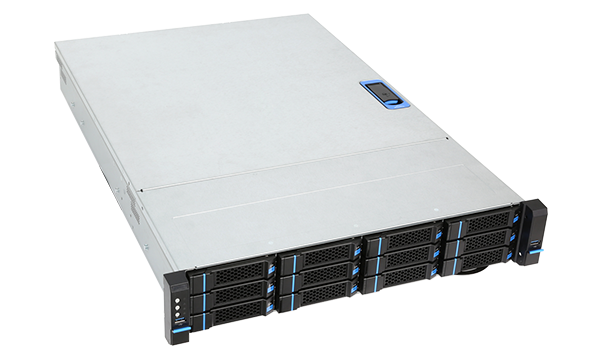 vCluster Distributed Storage
vCluster Distributed Storage is a distributed storage product with the best performance and the most complete functions in China. It has more than 100 functions than some popular open-source distributed software and more than 30 optimized functions. The vCluster distributed storage series has greatly improved storage efficiency, as it adopts an advanced distributed architecture that allocates one task to multiple storage nodes for parallel processing. Its stackable and modular design has improved the robustness and scalability of storage, which is in line with the IT architecture development trends for enterprise storage from now to the future.
Product advantages

Extreme performance
Fastest speed: Single storage with a maximum bandwidth of up to 1GB/s which is three times that of similar products.
Highest concurrency: A single system can support tens of thousands of rendering servers to read and write concurrently
Most complete function: most complete storage functions, including parallel storage, automatic hierarchy, and second deletion of massive small files

Extreme security
Flexible: support a variety of data protection modes, including snapshot, remote disaster tolerance, copy, and erasure.
Reliable: support disk-level, node-level, cabinet-level, and data center-level redundancy.
Fast: online automatic reconstruction and multi-node reconstruction of lost data at the same time, which is 10 times faster than RAID and has no impact on the front-end businesses.

Extreme compatibility
Storage type: support three storage types, respectively block level, object level, and file level.
Multi-client: support a variety of operating systems, such as Windows and Linux.
Interface protocol: support a great variety of protocols, including NFS, CIFS, iSCSI, HDFS, FTP, HTTP, S3, Swift, and POSIX
Product specifications
Product model

vCluster-2U12

vCluster-4U24

vCluster-4U36

vCluster-4U60

vCluster-4U90

Processor type

Intel multi-core processor

Intel multi-core processor

Intel multi-core processor

Intel multi-core processor

Intel multi-core processor

High-speed cache

32-512GB cache

64-1024GB cache

96-1024GB cache

192-512GB cache

256-512GB cache

Supported hard disk type

Enterprise SSD/SAS/SATA hard disk

Enterprise SSD/SAS/SATA hard disk

Enterprise SSD/SAS/SATA hard disk

Enterprise SSD/SAS/SATA hard disk

Enterprise SSD/SAS/SATA hard disk

Network data interface

2*1GbE (may be upgraded to 4*1GbE )

4*1GbE (may be upgraded to 2*10GbE)

2*10GbE

4*10GbE

4*10GbE

Number and specification of disks

12 SSD/SAS/SAT Node A (disks)

24 SSD/SAS/SAT Node A (disks)

36 SSD/SAS/SAT Node A (disks)

60 SSD/SAS/SAT Node A (disks)

90 SSD/SAS/SAT Node A (disks)

Maximum storage capacity

72PB

Total number of files

> 10 billion

Maximum file supported

32TB

Access protocol

iSCSI, NFS, CIFS, FTP, HTTP, POSIX, S3, and SWIFT

Copy number

2-12

Erasure support

N

(

support up to 18 nodes

)

+M (1, 2, 3, and 4 nodes)

Maximum volume number

1024

Maximum snapshot number

1024

Single name space

A unified storage access directory and space

Load balancing

Storage load balancing and access load balancing

Online expansion

Support online horizontal/vertical storage node expansion

Automatic recovery

Support the automatic migration and recovery of failure nodes and hard disk data without manual intervention

Intelligent monitoring

Support the monitoring of a variety of detailed running status, including overall storage status, storage node status, hard disk status, and network status

Management interface

CLI and Web-based graphical user interface

Alarm function

Email, log, and SNMP

Thin provisioning

Support excessive capacity assignment technology

Quota management

Support directory - and user-based file number and storage capacity quota technology

Automatic grading

Optional; support media of different performance to create different storage pools, and periodic statistics of IO to achieve dynamic file migration

WORM

Optional; support the mode of single writer multiple readers to protect files from tampering

Snapshot

Support directory and LUN timed snapshot, manual snapshot, and LUN readable and writeable snapshot

Remote copy

Optional; support directory-based synchronous and LUN asynchronous remote copy

NDMP

Optional; support mainstream backup software and tape libraries, such as Veritas NBU and CommVault

Fault domain

Support fault domain division based on node, cabinet, and machine room

NFS interface refactoring

Support high-performance NFS access interfaces

Windows client

Support Windows 2008/2012 clients to provide higher read/write performance or scalability in a concurrent manner

Anti-virus

Optional; support real-time scanning of the file sharing directory with Rising AntiVirus

Storage virtualization

Support heterogeneous management and virtualization of storage in FC SAN and IP SAN mode

Volume QoS

Support online change, QoS access and data recovery restriction of volumes and QoS management; allow configuration of policies, such as fault migration or business access priority and fault migration rate, during the disk or node failure, and allow designation of storage pool and IOPS and bandwidth upper limit setting for volumes.

Lun multipath

Support more than 2 MPIO paths to provide business access security

Volume management

Support the creation, deletion, and mounting as well as the online capacity expansion and copy of volumes

Lun security

Support iSCSI CHAP authentication and authorization to prevent unauthorized access and provide data access isolation function

High-performance media support

Support different high-performance media, such as SSD and PCI-E card, to create a variety of storage pools based on main memory or cache

Unified storage

Provide capabilities of access to files, blocks and objects and support S3 and Swift object access; fully compatible with files, blocks and objects, such as HDFS and OpenStack.

High access availability

High-availability access functions available for file, block and object access interfaces to achieve uninterrupted business access.

Cache management

Caching capabilities, such as caching read and caching write, available to increase the data hit ratio and improve the overall performance of storage; compatible with the main stream SSD, PCI-E, and NVME disks.

Disk management

Support S.M.A.R.T detection and slow disk detection; can find bad disks and defective tracks effectively and quickly and give fault warning in advance; support disk roaming, hot plug, disk localization and other functions

SSD management

Life management functions available for the mainstream SSDs, PCI-E cards and NVME disks, etc. by monitoring the total amount of data written and the continuous running time

SNMP support

System log, SNMP and SMS available; allow configuration of CPU utility, used space, read/write bandwidth, IOPS, latency, concurrency, and critical services at the system, node, and user levels and user definition of alarm type, alarm level, and recovery notification; can dock the centralized network management platform and synchronize and report the alarm information timely through SNMP V2/V3 to achieve unified operation and maintenance management and centralized alarm view, performance management and configuration operations.

Storage upgrade

Online upgrade storage system and repair patches available; can realize automatic distribution of upgrade packages and automatic deployment grading through the built-in software of the system; will not cause data loss or affect the business system access during the upgrade.

Virtualization support

Support virtualization technologies, such as KVM, VWware, Xen, and HyperV, etc.; standard blocks and file copy interfaces available for virtualization, and original block devices available for virtual machines; compatible with OpenStack Kilo version and the later versions up to the latest version; Cinder Driver and Cinder-Volume standard interfaces available.

VAAI support

Support the VMware VAAI function, which can greatly reduce the occupation of virtualized host resources and the use of network bandwidth, including Full Copy, Block Zero, and Hardware Assisted Locking (ATS)

Object storage quota management

Object storage and access buckets and user quota management available, including the number of objects and the capacity size.

Object storage permission management

Access functions, such as sub-user (SWIFT), permission and key, as well as bucket access permission management.

Object storage multi-site access

Support asynchronous data replication among multiple cluster systems to achieve multi-address disaster tolerant access to objects and buckets.

Multiple storage pools for object storage

Allow the creation of a new storage pool during the scaling of a storage bucket to enable the bucket to use the old and new storage buckets simultaneously, so that the data can be rebalanced during the capacity expansion

Object storage bucket access log

Statistical functions of data usage space, upload and download traffic, upload and download times and so on available at system level, user level and bucket level, and bucket download access logs and access permissions control available.